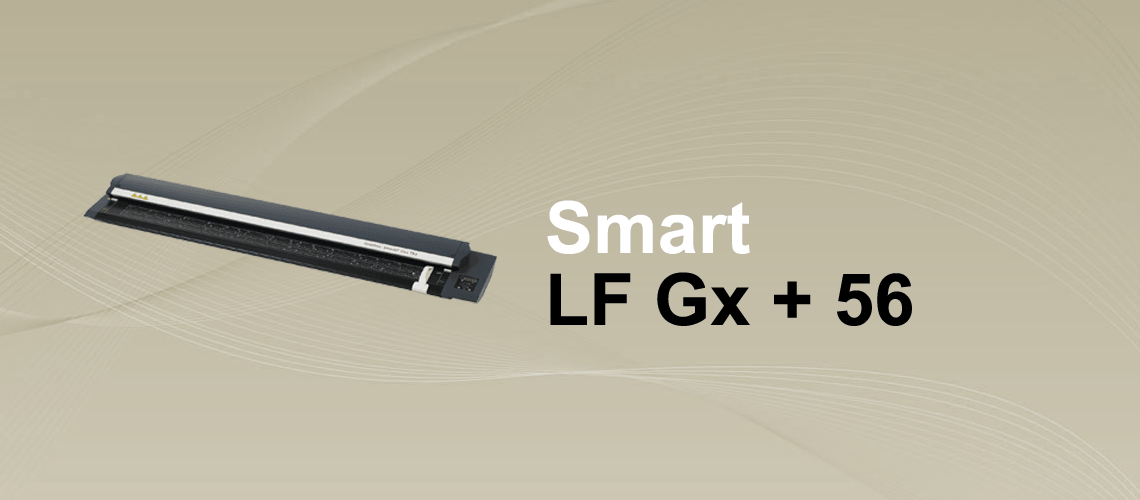 wide format scanner – SmartLF Gx + 56
Go 'super-size' with the SmartLF Gx+ T56 extra-wide format scanner. With the widest imaging width of any sheet fed wide format scanner on the market, this scanner provides the ultimate format flexibility for service providers or users who need to cope with very large, over-size documents or want to capture landscape A0 / E-size drawings and plans right reading from the outset. SmartLF Gx+ T56 has high optical resolution of 600 dpi, superior color CCD technology and the benefits of instant-on two-way LED lighting. These scanners meets the needs of AEC, CAD and GIS users' desires by sharply defined line detail in technical documents and maps while providing exact color reproduction, copying, and a wide color range for demanding graphics applications. You can access all main functions from a simple to use control panel on the scanner, which includes buttons for Scan, Copy, Stop, Rewind and Forward.The SmartLF Gx+ T56's Advanced Active Paper Transport looks after your documents.
The SmartLF Gx+ T56 extra large scanner's Advanced Active Paper Transport (APT) applies the minimum force necessary for preserving delicate originals, while achieving the required traction and accuracy to ensure images are sharp and shadow free.
We have even managed to feed newspaper through the SmartLF Gx+ T56 wide format scanner without using a document carrier sheet – you can't say that about many large format scanners.
SmartLF Gx + 56 – wide format scanner
Features:
56in image width – perfect for scanning oversize and landscape A0/E-size
Ethernet and USB2 interface: maintain high speed at high dpi – get more done
Includes SmartWorks EZ SCAN/COPY/EMAIL software
Wide format scanner
CCD technology with extra long-life, instant-on, unique bi-directional LED illumination
High density 48-bit color graphics and 16-bit monochrome data capture
Reliable paper feed from advanced 2+4 all-wheel-drive
Scans media up to 0.8in (20mm) – suits ALL graphics & technical documents
Low maintenance costs with easy USB2 connectivity
Get a Quote
0
You already liked this!