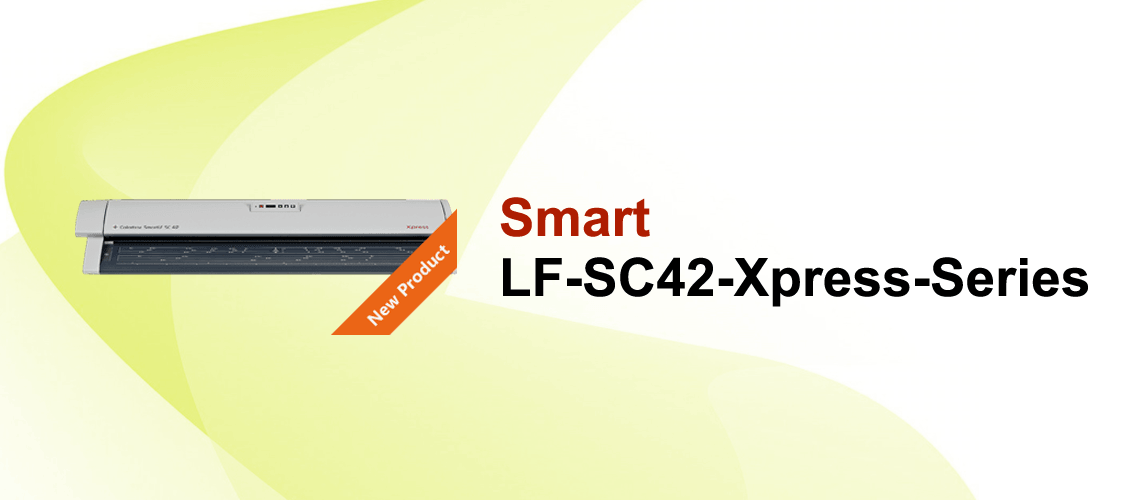 Large format scanner – SmartLF SC 42 Xpress Series
The fastest at 200 dpi and 300 dpi. With the same high quality imaging and higher scanning speeds at lower dpis the advanced SmartLF SC 42 Xpress provides fast, high quality scans or copies of wide format maps, site plans, engineering drawings, blueprints, architectural renderings and many other technical documents. The SmartLF SC 42 Xpress is the first large format scanner to incorporate the new SuperSpeed USB 3.0 digital interface.  With a dramatic x10 increase in the internal data transfer rates, the new USB 3.0 interface works at up to 5Gb/sec.   In terms of speed of scan data saved to the computer this represents more than double the previous rate of 28MB/sec (USB2) to 65 -85 MB/sec for USB3 depending on computer manufacturer.  SuperSpeed USB 3.0 is unique to Colortrac and allows the SmartLF SC 42 Xpress scanner to work at full speed using higher resolutions on wider documents than ever before.  For those without a USB3 equipped computer SmartLF SC 42 Xpress enhanced USB2 circuitry achieves a 25% improvement in data speed (35MB/sec) above the previously recognised industry average transfer rate of 28MB/sec for a normal USB2 equipped pc. Higher data transfer gives the SmartLF SC 42 Xpress operator the freedom to scan wider and at higher resolutions without affecting productivity.  If you have large amounts of archiving then SmartLF SC 42 is the perfect solution.
SmartLF SC 42 Xpress Series – Large format scanner
Features:
200% improvement of scan speeds at 200 dpi and 300 dpi
Single Sensor: Unique Colortrac CIS modules
FireFly: SuperSpeed USB3
Large format scanner
SureDrive Single driven media pressure roller
ClearView Innovative Dual LED lighting
WinSync Optimised Windows driver technology
ScanOnce Efficient scanning and copying workflow
Get a Quote
1
You already liked this!